With record low interest rates, the housing market has been buzzing to new levels. Donna, a local realtor in Davis, needed an online presence that not only provided prospective clients a snapshot of her and her background but also provide useful information for buyers and sellers.
CLIENT: Donna Hagans Real Estate
DELIVERABLE: Website design & implementation
Purchasing or selling a home is one of the biggest financial decisions anyone will make. It is critical that buyers and sellers find someone they trust and relate to. Accomplishing this on the web is a tricky task. It's a one sided conversation (you can't speak to the website visitor or see their reactions). And to make matters more challenging, you only have a matter of seconds to create the connection. There are a number of strategies used to accomplish this; here are a couple favorites we used in this project.
1. Make your pages scan-able. No one is going to read every piece of copy on your page. Give them frequent headlines so they can preview the sections and dive deeper when something catches their eye.
2. Make it personal. Who are you? Make yourself relatable. Offer "hooks" for people to relate and connect to.
3. Offer lots of social proof. We are social creatures, craving the advice of our peers. They say a picture is worth a thousand words, and I would argue a good, brief testimonial could rival that figure.
In the typography realm we chose two amazing typefaces: Domaine Display and Work Sans. Domaine Display, a contemporary serif is used primarily for the headers. The hooked serifs give a slight modern but formal feel. Work Sans, a Grotesque sans is utilized for subtitles and copy. It's more on the neutral side but has hints of friendliness in certain characters, like the ear on the "g".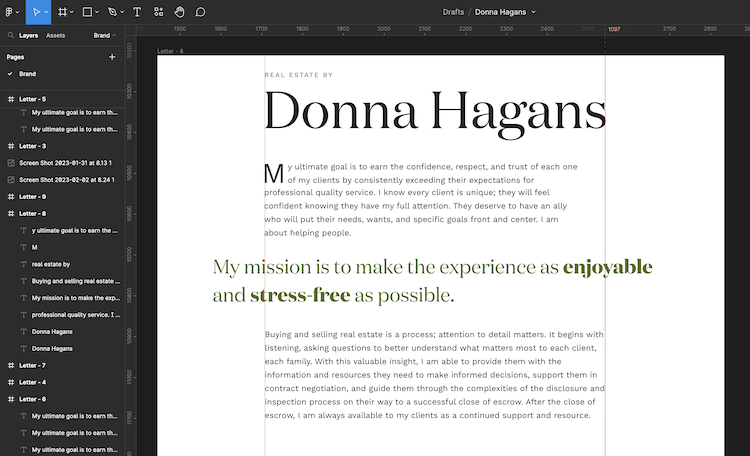 Reach out and connect. At the end of the day, each one of us has the same goal, to push our dreams to their potential and make them a reality. I'm happy to just talk through your ideas and act as a sounding board. Let me know what works for you.

– Tom